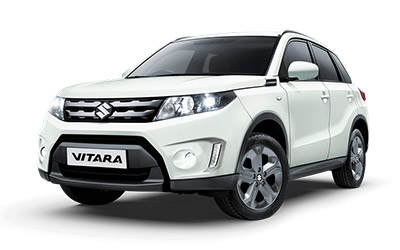 We have just the right vehicle for your budget and tastes. The following table shows the rental rates per season. We also have special package rates available to supplement your choices for accommodation.
Suzuki Jimny (Jeep): Seats Four (4) Fully-Loaded Auto, A/C, CD player - GROUP A
Toyota Yaris (Sedan): Seats Five (5) CD Player, Fully loaded, Auto, A/C - GROUP B
Toyota Corolla (Sedan): Seats (5), Fully-Loaded Auto, A/C,  CD player - GROUP C
Suzuki Grand Vitara (SUV): Seats Five (5) Fully-Loaded Auto, A/C, CD Player - GROUP D
Mitsubishi Grandis (Mini-van): Seats Seven (7), Fully-Loaded, CD & Cassette Player - GROUP E
Our Current Rates:
Our seasons are based on the following dates:
Low Season: Sept. 1 to Dec. 14; Apr. 16 to Jun. 15
High Season: Jun. 16 to Aug. 31; Dec. 15 to Apr. 15
| Vehicle | Low (Daily) | High (Daily) | Low (Weekly) | High (Weekly) |
| --- | --- | --- | --- | --- |
| Jimny | 50 | 55 | 300 | 330 |
| Yaris | 50 | 55 | 300 | 330 |
| Corolla | 60 | 65 | 360 | 390 |
| Vitara | 85 | 85 | 500 | 540 |
| Grandis | 95 | 100 | 560 | 650 |
All rates are subject to Government Tax of 16.5%
Renters are responsible for any damage / loss to the rented vehicle. This liability may be reduced to US$1000.00 (Jimny and Yaris), US$1500.00 (Corolla), US$1500.00 (Vitara and Grandis) for an additional US$15.00 per day (cars) and US$20.00 (bigger vehicles) or as determined by Salem Car Rental.
Renters must be at least 23 years old and must possess a driver's licence no less than three (3) years old.
Special conditions apply to renters over the age of 70 years old.
Rental and deductible waiver fees are payable in full on delivery of vehicle.
The deductible deposit is refundable if rentals are concluded without damage, loss or any other claim.
If the renter possess a credit card with auto-rental insurance applicable in Jamaica - including but not limited to: MasterCard World, Visa Gold/Infinite, Discover - the rental fee will be discounted as well as the deductible deposit . These discounts vary based on the type of insurance coverage that is offered.
Discounts may also be applied for rentals that consist of multiple days.
DAMAGE WAIVER FEE IS NON REFUNDABLE
Vehicles can be delivered at Sangster International Airport in Montego Bay.
We offer free transfer from Sangster International Airport, as well as hotels, and villas and other properties within a fifteen (15) mile radius.
Detailed Maps of Jamaica are also available.
Salem Car Rental reserves the right to substitute a comparable vehicle when a specified vehicle is unavailable.
One day's rental is considered as 24 hours. Any period over this time will be considered as an extra day.
Take Advantage Of Our Package Rates:

(Special Discounts To Church Groups)
RENTAL RATES AND DEPOSITS ARE SUBJECT TO CHANGE WITHOUT NOTICE.
ALL MAJOR CREDIT CARDS ARE ACCEPTED.
Salem Car Rental has been recommended by the Jamaica Tourist Board.